Yesterday we got a Stylish blogger Award from our beautiful blogger pal Lindsay from the Scenic Glory. How exciting!

Here are the rules
1. Thank the person who gave you this award
2. Tell 7 facts about yourself
3. Pass the love on and let them know that you've given them this award
A BIG WARM THANK YOU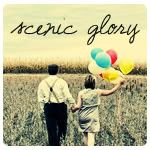 Thank you Lindsay for giving us a great way to end 2010 and kick off all the fun we have in store for 2011!
We're sending lots of

♥

♥

♥

your way! We love your inspirational boards and are positive that anyone who has read your blog, agrees what a pretty soul you are! Those who haven't yet visited Scenic Glory, we warmly recommend to do so :)You will love it!
7 FACTS ABOUT MERVI AND HELENA
We love vintage - the history and the stories behind each piece. True love never dies.

Art and photography is big part of us. We both love beautiful pictures.

What's life without cute pieces of earrings? We love big things and small things and we definitely love jewelry.

We think life is fun and fashion is fun. We love fashion and we want to play with the trends.

We're so excited about 2011! We have a feeling that it will be a good one.

Every visitor is important to us; we love to get feedback. This blog is for you our dear readers!

Sharing is caring!
PASSING ON THE LOVE
We've decided to pass on the love to 5 bloggers who have supported us and lightened our days with beautiful comments. So here you are ladies, you all deserve a Stylish blogger award!